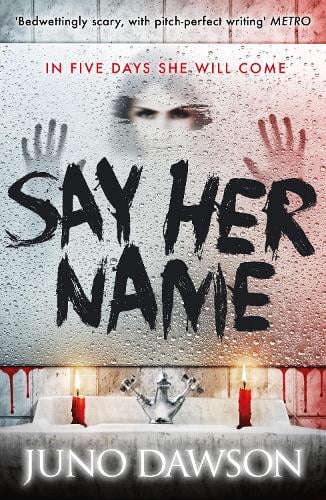 Blurb from GoodReads: 
Roberta 'Bobbie' Rowe is not the kind of person who believes in ghosts. A Halloween dare at her ridiculously spooky boarding school is no big deal, especially when her best friend Naya and cute local boy Caine agree to join in too. They are ordered to summon the legendary ghost of 'Bloody Mary': say her name five times in front of a candlelit mirror, and she shall appear… But, surprise surprise, nothing happens. Or does it?
Next morning, Bobbie finds a message on her bathroom mirror… five days… but what does it mean? And who left it there? Things get increasingly weird and more terrifying for Bobbie and Naya, until it becomes all too clear that Bloody Mary was indeed called from the afterlife that night, and she is definitely not a friendly ghost. Bobbie, Naya and Caine are now in a race against time before their five days are up and Mary comes for them, as she has come for countless others before… A truly spine-chilling yet witty horror from shortlisted 'Queen of Teen' author Juno Dawson.
Review:
Ms. Dawson what the HELL are you trying to do to me??!!- This is the most insanely scary book I've read all year!!!!! Disclaimer: I should point out that I am a huge fangirl of Juno Dawson, and I love the way she deals with issues such as identity, sexuality, gender and mental illness in her books- particularly in This Book is Gay (rightfully a bestseller) and newly published memoir The Gender Games. (I CANNOT WAIT to read that one!) I also love the sense of humour and openess (particularly about tricky issues such as gender, self esteem and sex) that comes across in her writing. Basically, anything she writes, I will hoover up. I saw her give a talk with the amazing Patrick Ness– author of A Monster Calls– at the YALC conference last month and I basically fangirled for her so hard I think I might have broken something. (I may have actually gasped when I saw her.) In 2015, Juno announced her intention to undergo gender transition and live as a woman. RESPECT.
However, this book- Say Her Name (SHN)-was just too damn scary for an innocent little Gelfling like me. My own writing can be dark, frightening and even (gulp) a teeny bit gory at times, but writing that feels different, because I know what's coming (mwa ha haaaa!) This felt like an intense, atmospheric chill fest where I had utterly no idea what was going to happen next, set in a (slightly anachronistic) girls' boarding school that verged on cliche but cleverly skirted around it. I loved all the modern references- social networking, Hello Kitty, horror movies, the TV show Supernatural, 'mocha frap' coffees (as a reformed coffee drinker, I still love any reference to coffee, dammit) etc. mixed in and around the more Gothic urban legend stuff. I loved Bobbie- such an endearing, relatable character- and her best friend, the headstrong New Yorker, Naya.
The dynamics between Bobbie, her friends and 'frenemies' were interesting, and I liked how both Bobbie and Caine came from unconventional family backgrounds (Bobbie was conceived with a sperm donor) as this, for me, really reflects modern life. I also liked Caine, Bobbie's sort-of love interest- for his realism and down-to-earth appeal- Dawson's ability to depict what teenage boys actually get up to (in Caine's case, doing tricks on a bike, probably out of sheer boredom) is completely spot on. Dawson's writing is clear, precise and creepy when it needs to be, with blood dripping from mirrors, spooky messages counting down 'five days' and schoolgirls mysteriously vanishing. The atmosphere builds up and up until it literally gives you chills- the prologue alone- from the POV of a soon-to-be murdered girl- was enough to give me serious heebie-jeebies. It had enough twists and turns to keep me guessing.
As I said, Dawson is clearly a very talented writer, and this book had a heck of a lot going for it, if horror is your thing- but for me, horror is most certainly NOT my thing. If you think I'm bluffing, let me put it into perspective for you: I absolutely loathe horror movies of all kinds, ages and descriptions, and sometimes even get scared watching Midsomer Murders. Yep, I confess. So SHN was really a wild card for me- I had no idea what to expect, other than to be pretty nervous about even the idea of reading it. Don't get me wrong, I have read some 'classic' horror stuff- e.g. Dracula, and in particular these Halloween-themed books, but I am usually quite careful about what I read because I have practically zero tolerance for psychological horror, jump scares, creepy vibes…you name it, I'm hiding behind the sofa from it. Like I said, I'm a true Gelfling, and there have been times I've had to turn away from an otherwise-good book because of all the gore/violence/horror aspects, which other people might find okay (SHN is aimed at young adults, after all,) but not me. One example of this is Derek Landy's 'Desolation Road'– an urban thriller that was just too gory for me to handle. (It actually turned my stomach in parts, which is a shame, as I liked a lot of Landy's 'Skulduggery Pleasant' series, and in the end I realized I wasn't actually excited about reading any more gore, so I just didn't.) Not everyone is going to want to read- in the case of Desolation Road– about manic serial killer ghosts and half demon cannibal killers, and I'm one of those people. This is what happened with SHN- in the end, it was too darn creepy. But this really is my own personal taste coming into play- there was nothing wrong with the writing-the writing itself was fresh, crisp and at times funny. I'm just not a big fan of horror, and just couldn't finish it because of that. However, I am seriously considering adding this to my list of top Halloween reads, and if horror writing is your thing, then I urge you to give this book a go, as Dawson writes like a dream. (And this book may just give you nightmares :D)
Overall rating: 9 out of 10
This Book in Four Words: Read. With. Lights. On.
Favourite Character: Bobbie